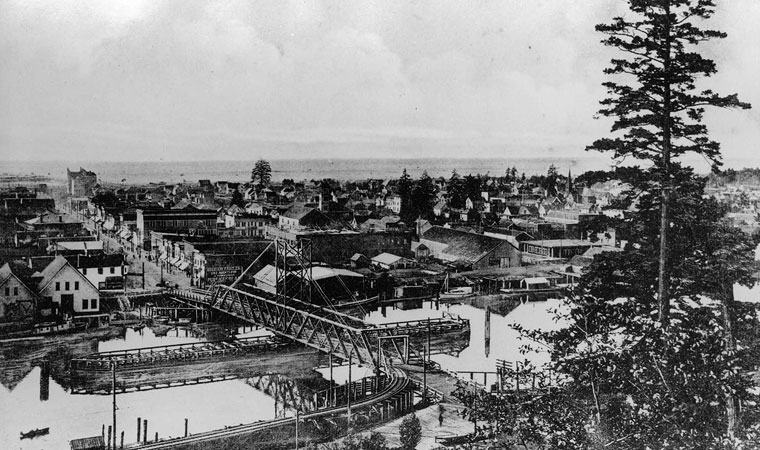 Grays Harbor History
Tucked between Canada and the Pacific Ocean, Grays Harbor County treats residents and visitors to a wide panorama of beaches, rivers, and forests. It also features a colorful history, full of rough-and-tumble timber and shipping workers, hardy fisherman, hard-working farmers, and culturally rich Native American peoples.
Named for a huge bay that drains five rivers, Grays Harbor County became part of Thurston County in 1852. In 1854 Grays Harbor County was established as Chehalis County – named after the local Native American tribe of the same name. The first county seat was actually in Pacific County at Bruceport on Willapa Bay, but in 1860 the county seat was moved near Montesano. Even after early attempts by the much-larger cities of Aberdeen and Hoquiam to lure the county seat away, it remains in Montesano.
After a legislative attempt to split the county in two and a contentious court battle, in 1915 Chehalis County was renamed Grays Harbor County, after Captain Robert Gray who discovered the harbor in 1792.
Today, the county has a population of approximately 71,600 . With the heyday of timber and fishing industries long-gone, there is a renewed effort, and promising results, to bring economic development to the Harbor. In 2010 a site owned by the Port of Grays Harbor was chosen for construction of the massive concrete pontoons for the State Route 520 bridge replacement project in King County (Seattle). In addition, the Satsop Business Park, site of the 1970s failed WPPSS project, is home to more than 30 businesses and growing.
About the photographs
The photos on this website have been graciously provided by the Jones Photo Historical Collection. Four generations of the family-owned Jones Photo Co., including William "Bill" D. Jones (1922 – 2010) who was a long-time member of the Grays Harbor Genealogical Society, captured on film the very essence of Grays Harbor and its people beginning in the early 1900s. The collection, which holds approximately 175,000 glass and film negatives and more than 85,000 prints, is now owned and managed by Anderson & Middleton Company, a long-time Grays Harbor timber company, who is committed to preserving the area's history for all to see. Our sincere thanks are extended to Terri Middleton, chief archivist, who encourages readers to visit the on-line collection and contact her if you recognize any of the collection's documented photos.